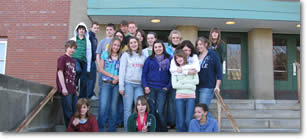 | | |
| --- | --- |
| | Sexual Abuse - Broad Coverage, Counselling Included |
| | Property - Extended Coverage Including Cyber Insurance |
| | Accident Policy for Staff and Students |
| | Liability - Up to $15 Million Coverage, Including EXO for Teachers |
As School Specialists, WE INSURE:
2 Canadian Universities


24 Christian Schools


Montissori Schools Across Canada

PEACE OF MIND, COMPREHENSIVE, FLEXIBLE
"FREE SCHOOL INSURANCE REVIEW"
Our Licensed Brokers will review your current School coverage's, answer your questions, and provide an insurance package tailored to meet the specific needs of your School.
SUPERIOR SCHOOL SHIELD COVERAGE:

School Property:
All Risk, Replacement Coverage on Building & Contents
Computer Hardware, Software, and Breakdown Coverage
Laptops need to be scheduled
Office Contents Extensions
Inflation Protection
Blanket By-Laws,

Professional Fees
Accounts Receivable
Newly Acquired Buildings and Contents
Sign and Glass Coverage
Goods in Transit Coverage For Overnights
Exhibit Booth Coverage
Fire Department Changes
Freezer, Electrical & Machinery Coverage
Our School Shield program includes options for Gross Earning Coverage, Profits, Actual Loss Sustained, and Extra Expenses.

Employee Dishonesty
In and Out Robbery
Forgery, Counterfeit Money
Broad Form Money Coverage

Low Auto & Home rates for staff
Group Rates for 3 or more School vehicles
Loss of use coverage
Fleet Discounts

Broad Form General Liability:
$2 Million Basic Coverage
$4 Million Sexual Abuse can be included
Up to $15 Million Coverage for Bodily Injury and Property Damage including operation on and off your premises

Umbrella Coverage up to $10 Million Coverage available
Professional Malpractice Liability for all School staff
Directors and Officers Liability
Rope course and wall climbing liability

School Shield Accident Policy:
We have had 2 Death Claims on this policy in the last 2 years
Coverage for death, loss of eyes, hand, foot and over 20 other coverage's
We insure Children from out of Province when they need a hospital visit from an accident
Every School should have this coverage

Contact one of our Professional Brokers for a review of your coverage's today !!!